The "Godfather" of Vietnamese Social Enterprises
Created
23 September 2017
VietNamNet Bridge – After many attempts, I finally got to meet Jimmy Pham - a man of large stature and a gentle smile. He is single, but much busier than those with a family.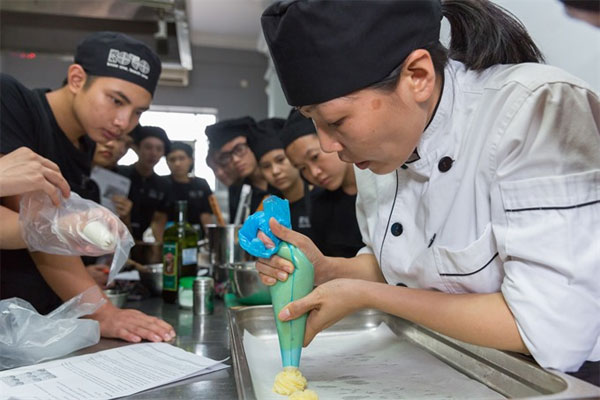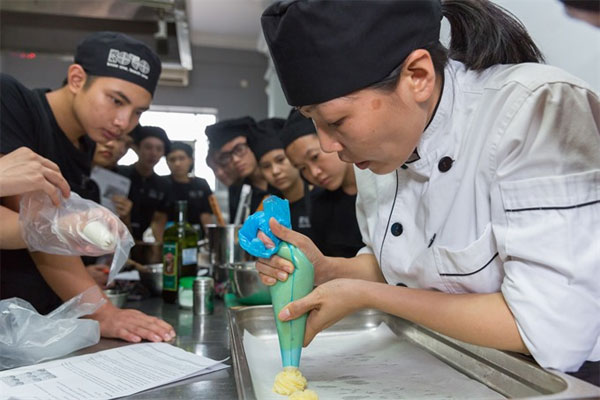 Trainees: Teenagers learn how to make cakes at KOTO. — Photos courtesy of KOTO
Jimmy has hundreds of kids to care for. After years of helping them take charge of their own lives, he still finds himself living from payday to payday, but the thought of giving up has never crossed his mind. "Everyone has their own calling in life, helping kids is what my heart commanded, and that is my own calling," Jimmy said.
Jimmy is the youngest of the six Pham siblings born during the war in 1972 to a Korean father and Vietnamese mother. The war drove two-year-old Jimmy and his family to Singapore, Saudi Arabia and eventually to Australia.
Initially, they hardly made ends meet running a tailor shop and doing small business in the market. In 1988, Jimmy finally got his Australian citizenship.
Jimmy's dad died in 1993. This forced Jimmy to become mature beyond his years, going through multiple server jobs in restaurants and bars after 10th grade before graduating from high school. After getting his degree in hospitality, he chose to dedicate his life to KOTO.
When asked about why he started KOTO, Jimmy gets nostalgic. He tells us his unusual story. As a hopeful young man, he gave up his life in a developed country to return to Viet Nam to take care of street kids and give them a future.
It started when Jimmy landed in Ho Chi Minh City in 1996. He met famished kids on the street, and got to hear their stories as they emptied bowls of pho. Their stories tugged at his heartstrings, pushed him to give less fortunate souls a better life.
A tour guide earned around $600 back then and Jimmy tried to get extra tips. He worked at other odd jobs to help street kids. He even took $2,000 out of his saving every month for kids in HCMC and Ha Noi, but that ran out as well.
Jimmy realised giving the kids money and a meal here and there would not last for long, so he thought of teaching them skills and giving them stable jobs. After opening a sandwich shop in Ha Noi, Jimmy quickly saw that street kids need to be professionally trained.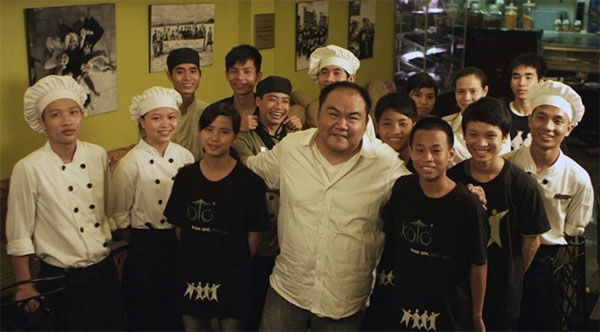 Many helpers: Jimmy Pham poses for a photo with teenagers at KOTO.
With help from Tracy Lister, an Australian chef, and financial aid from family, Jimmy's first restaurant - named KOTO (short for "Know one, teach one") - went into operation at 61 Van Mieu. Later, he opened the KOTO training centre situated at 72 Thuy Khue as a place for the youngsters to learn.
During that time, a few volunteers from Australia, France and England coached children on kitchen work, as servers, and learning English. With their help, Jimmy had the time to wander the streets of Ha Noi and find more kids in need of help.
Bringing kids into the programme wasn't easy, however, even with an established location. Most people viewed street kids as good-for-nothing delinquents who could not be developed. Under the guise of a "master" or "big brother" (of a gang), Jimmy approached and told them of the opportunity KOTO offered.
Many thought Jimmy was nothing but a child trafficker, sending kids to Chinese sex or drug rings. Being exposed to all kinds of scams on the street, some also didn't trust Jimmy and ran off when he mentioned KOTO.
With an unprecedented business model in Vietnam at the time, KOTO faced countless financial problems while having to prove its legitimacy to the local authorities. In the beginning, many of the kids went back to their old ways and even tricked "big brother" Jimmy, sold off KOTO property and got into all sorts of trouble.
Jimmy sometimes wanted to go back to Australia and leave all these headaches behind. When I asked why he remained in Viet Nam, Jimmy replied quickly, "Most definitely because of their smiles, I don't want to be another foreigner passing through with empty promises."
KOTO's curriculum includes cooking, bartending, hospitality, specialised English, life skills. Life skills range from the simplest things to stuff that is more important: manners, communication, how to distance oneself from drugs and other social evils. Once started, children are sent to a pagoda in Thuong Tin District, not to become monks, but to become modest, respectful and civil people.
While the first ever class consisted of only street children from Nha Tho Street in the Hoan Kiem Lake area, subsequent classes took on a more systematic approach with four different phases over two months. During orientation, Jimmy's always says, "Congratulation, for each of you here, seven were rejected," to remind the freshly admitted kids not to squander their opportunity.
After 24 months of training with KOTO, students are certified by Box Hill Institute, Australia, and become qualified hospitality workers. With this certification, they can immediately start working in top hotels and restaurants in Viet Nam, as well as internationally. KOTO is the stepping-stone that changed many troubled lives.
"Social enterprises are popping up in Viet Nam as we speak. Do you have any advice for them?"
"I think as a social enterprise, you have to deliver what the market needs, help doesn't come easily. We have to change that mindset. Many gave up halfway when they couldn't find funding even though they had a good idea. During a recent social enterprise conference, there were over 500 invested projected, but only 13 are returning the initial investment. That is a saddening number. In comparison, kids that come to KOTO can't grow if they think KOTO will propel them to the finish line. Your success is determined by your hard work, discipline and drive, not because of others' help."
"Somewhat of a personal question, why aren't you married at the age of 40?"
Jimmy laughed, "To me, KOTO is my family, the kids are my children. I go back to Korea every year and KOTO gets a lot of support from the Korean community.
"The President of Korea even came over here and presented KOTO as a joint effort of the Viet Nam-Korea relationship. In the future, I want to return to Australia. I promised my mother I would go back in 18 months when I left, but it has been nearly 20 years. I hope one day, my students can replace me at KOTO."
Based on a study, Ha Noi has nearly 20,000 street children. And there are many more in other Vietnamese cities. This prompted Jimmy to open KOTO in Ho Chi Minh City and to expand to Cambodia, Australia and several other countries in Asia. His vision of KOTO is an international one, with big comfortable houses, where street children can live, learn, and take charge of their own future.
Thus, the day when Jimmy has his own small family, when he returns to Australia as promised, seems far away. Jimmy is just walking his own path and for him happiness is not a destination, but the journey.
By Nguyen Huu Phung Nguyen
* (The story is an excerpt from the origninal story titled The "Godfather" of Vietnamese Social Enterprises printed on the Redefining Success book published by the Center for Social Initiatives Promotion.)
Source: VNS - Bridge
Maybe You Also Interesting :
» Party chief pays tribute to late Party General Secretaries
» Bến Tre outlines plan to promote tourism investment
» Hà Tĩnh residents make buoy to cross river