Art exhibition focusing on the lotus opens in HCM City
The lotus is the major theme of the "Tâm Linh" (Spiritus) art exhibition at the HCM City Exhibition Centre, which opens on August 18.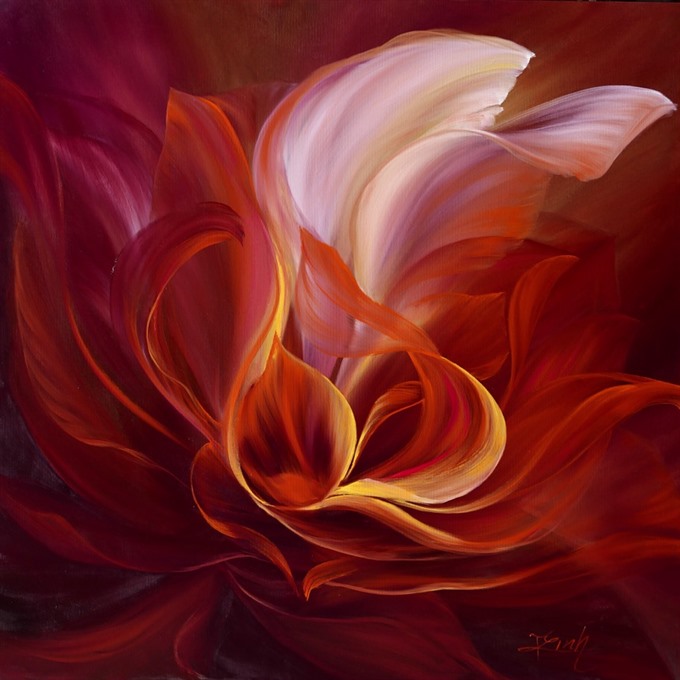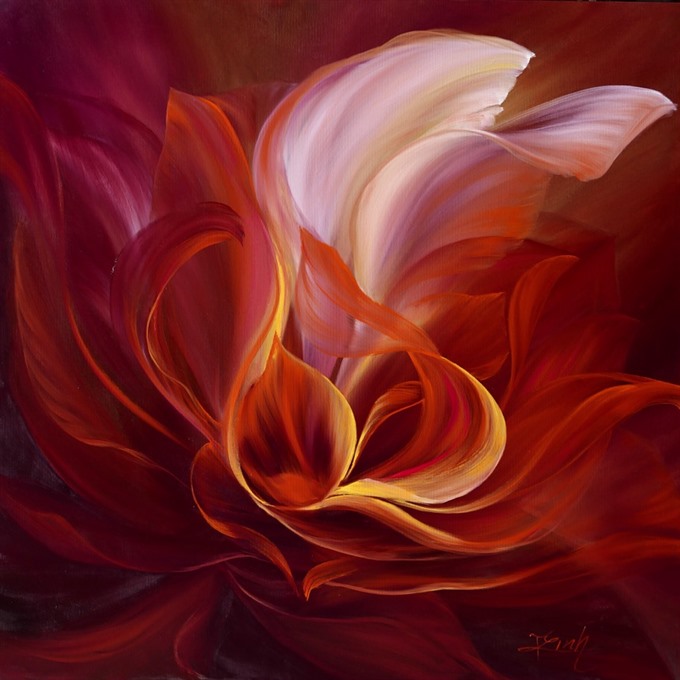 Thường Biến (Transformation), an oil painting by Trần Thùy Linh. — Photo courtesy of the organisers
The exhibition displays 30 oil, acrylic and watercolour paintings on canvas, silk, alloy or papyrus by artists Nguyễn Thị Tâm, Trần Thùy Linh and Nguyễn Huy Khuê.
The lotus has special significance to the Vietnamese and Vietnamese culture.
Tâm, 82, best known for her paintings of lotuses, is showing 11 oil on canvas paintings, such as Đêm Huyền Diệu (Magical Night), Gió Thoáng Ngoài Ao (Wind on the Pond), and Cơn Giông (A Storm).
The works feature images of pink and white lotuses standing steady in the storm, reflecting the strength of human beings in the face of disasters.
Tâm, a native of the Mekong Delta province of Tiền Giang, graduated in oil painting from the Gia Định Fine Arts College in 1958.
She has taken part in 20 solo and group exhibitions in Việt Nam, France, the US and Germany, among others.
Linh, who does semi-abstract and abstract paintings, showcases papyrus paintings in three collections, including 15 Sắc Thái Của Sen (15 Shades of Lotus), Đối Thoại Sen (Dialogue with Lotus) and Hoa Hư Không (Flowers of Nothingness).
Linh began to study painting when she was eight from well-known artists at the Art Academy of Indochina in Hà Nội and her mother, a professional artist.
She graduated from Leipzig University in Germany in 1988 and continued to study painting in Việt Nam after her return.
She has held several solo and group exhibitions in Việt Nam, the US, South Korea, Mongolia,and Taiwan. Her paintings are in private collections in Việt Nam, Germany, the US, Thailand, Malaysia and Singapore.
Khuê, a graduate of the HCM City University of Fine Arts who now lives in Australia, is displaying seven silk paintings and an installation work.
The exhibits include Tôi Và Tôi (Me and I) and Bắt Đầu Từ Tâm (From the Heart) reflecting his inner conflict and ways to improve himself.
Uyên Huy, chairman of the HCM City Fine Arts Association, said: "The exhibition is beautiful and meaningful and has each artist's traits. Three artists depict the beauty of lotus, and the connection between the artists' soul and the Vu Lan Festival (an event to express gratitude towards parents)."
The exhibition is open until August 27 at 92 Lê Thánh Tôn Street in District 1. —
Source: VNS - Bridge
Maybe You Also Interesting :
» Village festival – culture of wet rice civilization
» Couple criticised for nude wedding photos
» Hundreds of vintage vehicles showcased at Dam Sen Park