Electronic waste still cannot be recycled in Vietnam
The 'mountain of electronic waste' in Vietnam is receiving an additional 100,000 tons of waste each year.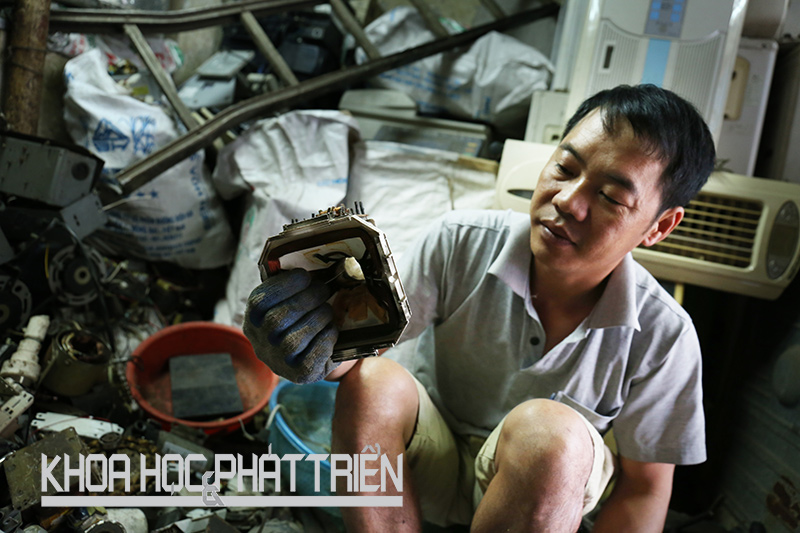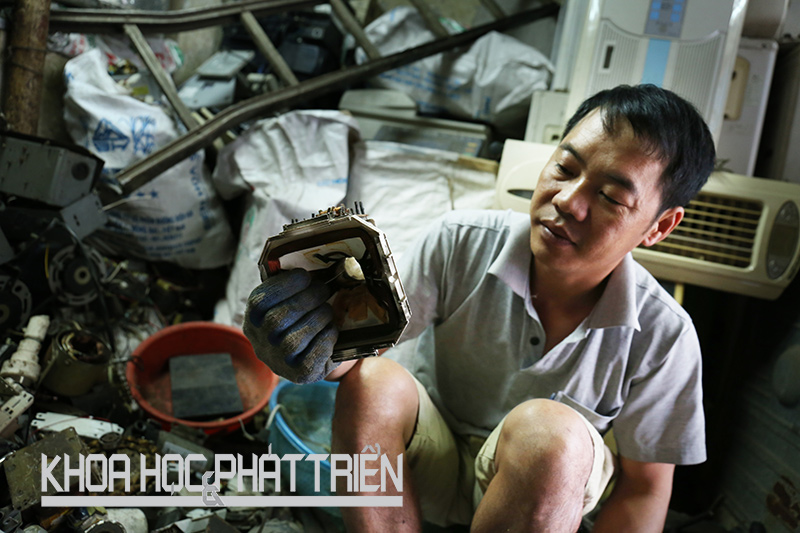 The recycling activities carried out in Vietnam are just preliminary treatment, as the country still cannot make refined materials for production.
Thirty years ago, TV sets were luxury products for Vietnamese. But now, one family may own 2-3 TV sets and change TVs once every several years. This has resulted in an increasingly high volume of electronic waste.
Scientists pointed out that e-waste could harm the environment, but could also be precious input materials for production if it can be properly recycled.
A report from Hanoi University of Science & Technology showed that the amount of TV waste may reach 250,000 tons by 2025.
According to Nguyen Duc Quang from the school, the volume of e-waste in Vietnam increases by 100,000 tons a year, mostly from households (household electronics), offices (computers, photocopiers, facsimile machines) and illegal waste imports.
Scientists pointed out that e-waste could harm the environment, but could also be precious input materials for production if it can be properly recycled.
Meanwhile, Dang Thi Kim Chi from the Vietnam Association for Conservation of Nature and Environment, said that the so-called 'recycling' in Vietnam just means dissembling, classifying the waste and splitting metals (plastics, copper, aluminum, etc).

"The grinding and splitting of metals can only be considered as 'preliminary treatment', not 'recycling'," Chi said, adding that preliminarily treated metals are carried to China for refining.

According to Quang, there are 15 industrial workshops in Vietnam which have licenses to treat e-waste with the capacity of 0.5-3 tons per day. However, the workshops only classify waste and use some kinds of normal metals with high content such as copper and aluminum. The work is also carried out in craft villages, where outdated technologies are used, which causes pollution.

Dao Duc Khanh, director of Urenco 10, an environment service company, said that the company doesn't have advanced technologies to treat e-waste. TV sets, refrigerators and air conditioners are still treated like industrial waste.

Chi warned that improper treatment with e-waste could be dangerous as heavy metals such as lead and mercury leak into the environment.

"The plastic covers of many electronic devices have a high toxicity level, including durable organic compounds which can cause cancer," Chi warned.

"The grinding and cutting of plastics will generate microscopic dust particles containing hazardous substances such as PBDDs and PBDEs. If people are not protected with masks, they will inhale the toxic substances. The toxins will go into the blood and to many organs, becoming a potential danger," she said.

Asked why Vietnam still cannot recycle e-waste, Quang said the problem is not in technology, but the lack of input materials for recycling.
Source: Thanh Mai - Bridge
Maybe You Also Interesting :
» Dust recycling project starts to ease concern over steelmaking
» Clean-up success at lead recycling village
» Will Cape Town be the first city to run out of water?